Site region
This page contains information about the regions defined for your site
In the.
In the Yandex.Directory, if the organization is added in it.
In the Yandex.Webmaster service or automatically by the Yandex robots.
Changing the site's region
To change your site's region, enter the region you want to set, and in the corresponding box, enter the URL of the page on your site that confirms its regional identity. Then save your changes.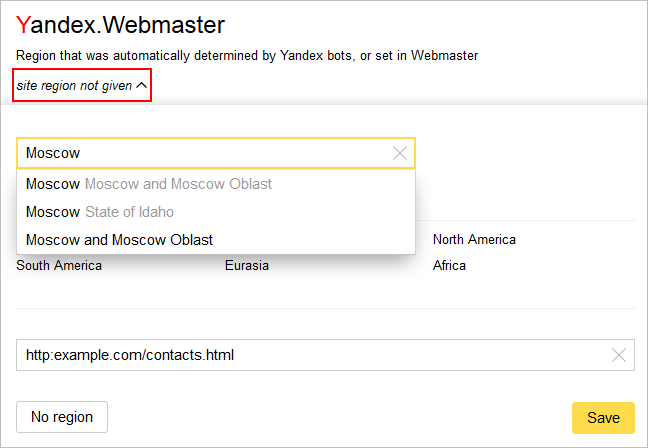 Changes will take effect after the region has been verified (a message about this will appear on the page) and the search database has been updated.
To indicate the site region in the Yandex.Catalog,. To edit the region set in the Yandex.Directory, edit the organization card in the Yandex.Directory. The information in the Yandex.Webmaster is updated automatically within a few days.
Questions and answers
Do all sites need a regional assignment?
If your site is aimed at location-dependent queries, make sure that your site's region is correctly detected. The site region may be used to determine the site's relevancy for the queries from a particular region.
If your site has general content designed for users from any regions, don't assign a region. Sites with general content can be assigned the status "Site is not currently geographically targeted".
Your site can't be assigned the status "Site is not currently geographically targeted" if it is devoted to the products of a company that has a physical or legal address.
Which region should I assign to my site?
We recommend selecting the region as precisely as possible. For example, if the site is related to the city of Yekaterinburg, you should assign this as the region, not the "Sverdlovskaya area" or "Russia".
How many regions total can be assigned?
The site can be automatically assigned several regions. Only one region can be assigned through the Yandex.Webmaster service.
I see the message that the region is defined in the Yandex.Catalog, but the site isn't published in the Yandex.Catalog. Why?
This means the Yandex.Catalog editors reviewed the site but decided not to add it to the Yandex.Catalog. The site was assigned categories (including the region), but it isn't published in the Yandex.Catalog.
Also, the region of the site published in the Yandex.Catalog may be inherited by its subdomains.
Why does the service show that the region was rejected?
If a region set in Yandex.Webmaster failed automatic verification or was rejected by a moderator, this region will not be assigned to the site. The region is assigned correctly in the following cases:
The site has contact information confirming it (for example, this is the site of a business with an office in the specified region).

Materials on the site have a geographical localization that matches the specified region, and the site is informational (for example, a local newspaper site).
If the region you set in Yandex.Webmaster was rejected, but the site is truly regional, try assigning another more suitable region.